KS3
Typically, our KS3 pupils are offered 18 hours per week. Our aim for our KS3 pupils is to support them into a successful transition back to their mainstream school or other appropriate setting.
A sample timetable can be viewed below: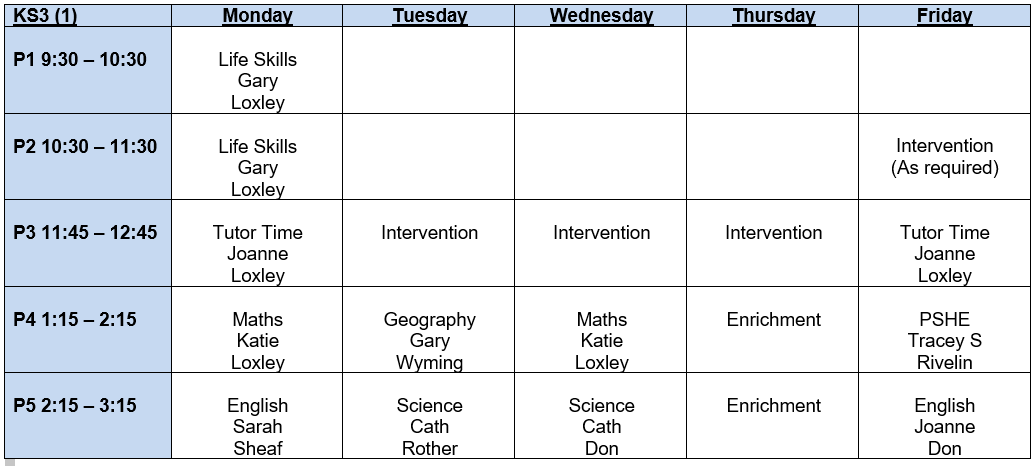 Please note that the content offered to students may differ from the main plan below if specific gaps in learning are identified or if the students host school has previously covered this material. In these cases, bespoke plans may then be put in place.
English
Our aim at The Chapel is to engage students in learning that is representative of elements of learning in mainstream school while enabling students to gain confidence in their ability and potential.
We want our students to learn to :
· Read a wide range of non-fiction and fiction texts with understanding and insight.
· Develop an appreciation of literature through the close study of prose, poetry and drama texts.
· Write skilfully to suit various audiences, purposes and forms such as letters, speeches etc.
· Speak with increasing confidence and fluency for a variety of purposes and audiences.
We also expect our pupils in KS3 to bring a private reading book to school every day. There is a reading opportunity towards the end of one of their English lessons and there may be chances to read in form time or in other lessons when work is completed.
Autumn 1 and 2

Novel (Author's Craft)

Choose from:

Holes

Skellig

War Horse

The Curious Incident

Stardust

Stormbreaker

Kensuke's Kingdom

Spring 1

Play/Dramascript or Unseen Poetry

Frankenstein

Dracula

Spring 2

Poetry – selection from literary heritage/contemporary -teacher choice

Summer 1

Writing to Persuade/Argue

Summer 2

Narrative Writing
Maths
Our approach is to enhance pupils' enjoyment of maths by working to ensure they experience success. For pupils who have missed time in school or who have struggled to make progress, this may mean spending more time building up their knowledge of number facts and methods, with structured practice to help with long term retention. Pupils who are already more confident also spend time learning strategies to apply to problems and recognising when a particular strategy is required.
Although pupils join us at different points, we structure the school year to provide the possibility for progression and some clarity for pupils as to what to expect and what they might have missed.
For KS3(1) we follow a KS3 plan from the National Curriculum using resources from MathsWatch, MyMaths, PixiMaths and WhiteRose Maths. The main aim of these lessons is re-engagement aimed at increasing confidence and 'filling in gaps' often from long periods away from education.
Autumn 1

Understand Place Value
Calculate Averages and the Range
Rounding
Sequences

Autumn 2

Probability and events
Scale and drawing
Calculations with Whole numbers

Spring 1

Fractions
Understand negative numbers
Measures: Units

Spring 2

Properties of Number – factors, multiples and primes
Geometry: Symmetry

Summer 1

Statistical Charts and Diagrams
Graphs and coordinates

Summer 2

Geometry and measures: Angles
Geometry: Transformation
Science
With KS3 our primary aim is to engage them with Science. From this we can work on areas of the curriculum that our learners have missed. This will prepare them for Y10. Depending on the learner's needs and cohort, we may start to cover the GCSE content, as many schools start GCSE Science in Y9.
Autumn 1

Forces - Contact forces and pressure
Electromagnets and magnetism

Autumn 2

Energy - Work and Heating and Cooling
Waves - Wave effects and properties

Spring 1

Matter - Periodic table and elements
Reactions - Chemical Energy

Spring 2

Reactions - Types of reaction
Earth - Climate

Summer 1

Earth - Earth resources
Organisms - Breathing and Digestion

Summer 2

Ecosystems - Respiration and Photosynthesis
Genes - Evolution and inheritance
RSE and PHSE
All Becton students are taught using a spiral curriculum approach which is a curriculum that returns to the same topics over time. All lessons are aligned to the National Curriculum.
The spiral approach to curriculum has three key principles. The three principles are:
Cyclical: Students should return to the same topic several times throughout their school career;
Increasing Depth: Each time a student returns to the topic it should be learned at a deeper level and explore more complexity;
Prior Knowledge: A student's prior knowledge should be utilised when a topic is returned to so that they build from their foundations rather than starting anew.
The curriculum approach uses 5 levels of skills across 3 different areas:
Health and Wellbeing
Living in the Wider World
Relationships
Staff will benchmark students on entry and will choose a level and subject according to the specific, bespoke needs of the students at that time. The choices will be made with liaison with the wider multidisciplinary team.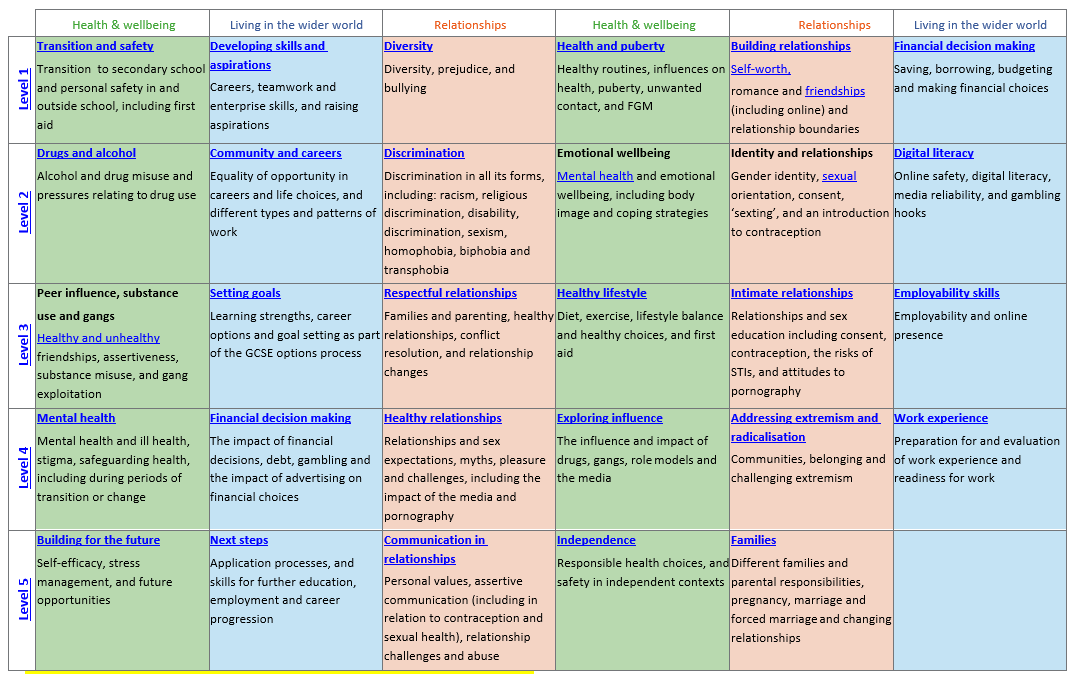 Tuesday Enrichment
| | |
| --- | --- |
| Autumn 1 | First Aid |
| Autumn 2 | Enterprise (Christmas themed) |
| Spring 1 | Homeless Project |
| Spring 2 | Hapa-Zome Art |
| Summer 1 | The Kindness Project (Pebble Painting) |
| Summer 2 | Mental Health & Wellbeing |
Enrichment
Our site enrichment sessions occur on a Thursday afternoon and pupils can choose from a variety of activities to suit their needs and interests. Activities change across the terms and examples of what we have offered can be seen below:
Autumn 1

Arts and Crafts
Board Games
Online Escape Room
Film Club
Documentary Club

Autumn 2

Arts and Crafts
Board Games
Minecraft club
Computer Coding
Whirlow Hall Farm
Baking
Local History and travelling on local transport
Christmas Bonanza

Spring 1

Chapel Doc Fest
Drama/Expressive Arts - Drama/Music/Dance
Teamwork
Becton Bake Off