11b
Typically, our Y11b pupils are offered 22 hours per week. Our aim for our Y11 pupils is to support them to complete appropriate qualifications and transition successfully to an appropriate Post-16 placement.
A sample timetable can be viewed below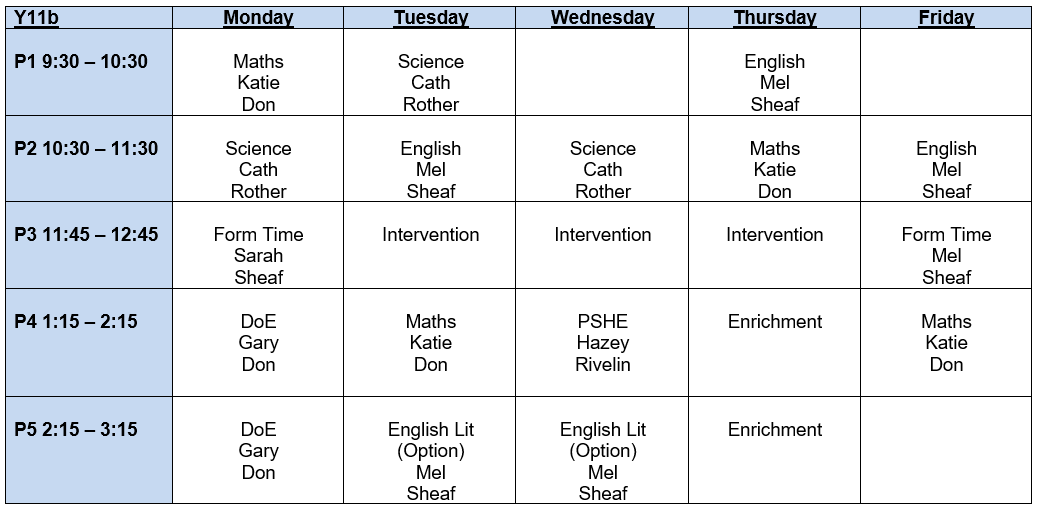 Please note that the content offered to students may differ from the main plan below if specific gaps in learning are identified or if the students host school has previously covered this material. In these cases, bespoke plans may then be put in place.
English
Our aim at The Chapel is to engage students in learning that is representative of elements of learning in mainstream school while enabling students to gain confidence in their ability and potential.
The long-term plans are dictated largely by the demands of the AQA exam syllabus. At The Chapel we work towards enabling students to gain a grade 4 or above in both English Language and Literature. However, we aim to be flexible and this pathway is not suitable for all of our students due to their individual circumstances. We also offer a Functional English course alongside the GCSEs for selected students.
The course starts with close study of two literature texts that explore the theme of social responsibility: An Inspector Calls and A Christmas Carol. We then turn to developing skills in creative reading and writing for the English Language exam.
Throughout the course we examine a collection of poetry connected by the theme of 'power and conflict', with poems from Percy Bysshe Shelley and William Blake alongside modern contemporary poems by Imtiaz Dharker and Carol Ann Duffy.
We also study Macbeth or Romeo and Juliet by William Shakespeare and analyse how writers use language to express their viewpoints before writing our own.
We want our students to learn to :
· Read a wide range of non-fiction and fiction texts with understanding and insight.
· Develop an appreciation of literature through the close study of prose, poetry and drama texts.
· Write skilfully to suit various audiences, purposes and forms such as letters, speeches etc.
· Speak with increasing confidence and fluency for a variety of purposes and audiences.
We also expect our pupils in KS4 to bring a private reading book to school every day. There is a reading opportunity towards the end of one of their English lessons and there may be chances to read in form time or in other lessons when work is completed.
Autumn 1

Language Paper 1 –

Narrative writing skills
Ambitious vocabulary
Plot structure
Sentence variation

Autumn 2

Language Paper 2-

Persuasive language
Speeches
Formal letters
Newspaper articles
Higher level punctuation

Spring 1

Literature Paper 1

Revise key themes and ideas in nineteenth century novel
Past exam questions

Spring 2

Literature Paper 1

Revise key themes and ideas in Shakespeare play
Past exam questions

Summer 1

Summer 2
Maths
Our approach is to enhance pupils' enjoyment of maths by working to ensure they experience success. For pupils who have missed time in school or who have struggled to make progress, this may mean spending more time building up their knowledge of number facts and methods, with structured practice to help with long term retention. Pupils who are already more confident also spend time learning strategies to apply to problems and recognising when a particular strategy is required.
Although pupils join us at different points, we structure the school year to provide the possibility for progression and some clarity for pupils as to what to expect and what they might have missed.
Y11a students follow the Edexcel 1MA1 syllabuses. Y11b study the foundation level aiming for GCSE Grade 3 or Grade 4. The curriculum is split into five areas: Number, Ratio and Proportion, Algebra, Geometry and Statistics. Each area is taught as a whole over the course of a half term.
Autumn 1

Number, Ratio & Proportion

Integers and Place Value
Decimals
Indices, powers and roots
Factors, multiples and primes
Fractions, decimals and percentages
Ratio and Proportion
Fractions and Reciprocals
Indices and Standard Form

Autumn 2

Algebra

Expressions and substitution into formulae
Equations and Inequalities
Sequences
Real-life graphs
Straight line graphs
Quadratic Equations – Expanding, Factorising and graphs
Rearranging equations, graphs of cubic and reciprocal functions
Simultaneous Equations

Spring 1

Geometry 1

Properties of shapes, parallel lines and angle facts
Interior and exterior angles of polygons
Transformations
Right-angled triangles: Pythagoras and trigonometry
Plans and Elevations
Constructions, loci and bearings

Spring 2

Geometry 2

Perimeter, area and volume
Circles, cylinders, cones and spheres
Similarity and congruence in 2D
Vectors

Summer 1

Probability and Statistics

Tables, charts and graphs
Pie charts
Scatter graphs
Statistics, sampling and the averages
Probability

Summer 2

Revision

Past papers and exam practice
Science
In Science our aim is to enhance pupil's enjoyment of the Sciences. Our curriculum at KS4 involves the teaching of Chemistry, Biology and Physics at GCSE level and is taught in an engaging and interactive way, making the learning fun and ensuring that pupils' experience success. We structure the lessons so that they are representative of learning in the pupils' home school and support pupils to gain both the substantive and disciplinary knowledge that they need to succeed in the subject.
Although pupils join us at different points, we structure the school year to provide the possibility for progression and some clarity for pupils as to what to expect and what they might have missed.
Staff work with the pupil during their time at Chapel House to identify any gaps in learning and then work together to address those gaps.
Autumn 1

The structure of an atom
Mass number, atomic number and isotopes
The development of the model of the atom
Radioactive decay and nuclear radiation
Nuclear equations
Half-lives and the random nature of radioactive decay
Radioactive contamination
Sexual and asexual reproduction
Meiosis
DNA and the genome
Genetic inheritance
Inherited disorders
Sex determination
Crude oil, hydrocarbons and alkanes
Fractional distillation and petrochemicals
Properties of hydrocarbons
Cracking and alkenes

Autumn 2

Density of materials
Changes of state
Internal energy
Temperature changes in a system and specific heat capacity
Changes of heat and specific latent heat
Variation
Evolution
Selective breeding
Genetic engineering
Evidence for evolution
Fossils and Extinction
Resistant bacteria
Classification
Pure substances
Formulations
Chromatography
Testing for gases

Spring 1

Poles of a magnet
Magnetic fields
Electromagnetism
Communities
Abiotic factors
Biotic factors
Adaptations
Levels of organisation
How materials are cycled
The proportions of different gases in the atmosphere
The Earth's early atmosphere
How oxygen increased
How carbon dioxide decreased
Greenhouse effect and carbon footprint
Atmospheric pollutants from fuels
Properties and effects of atmospheric pollutants

Spring 2

Transverse and longitudinal waves
Properties of waves
Types of electromagnetic waves
Properties of electromagnetic waves
Biodiversity
Waste management
Land use
Deforestation
Global warming
Maintaining biodiversity
Using the Earth's resources and sustainable development
Potable water
Waste water treatment
Life cycle assessment
Ways of reducing the use of resources

Summer 1

Physics: KEY IDEAS

Physics: REVISION AND PAST PAPERS

Biology: KEY IDEAS

Biology: REVISION AND PAST PAPERS

Chemistry: KEY IDEAS

Chemistry: REVISION AND PAST PAPERS

Summer 2
RSE and PHSE
All Becton students are taught using a spiral curriculum approach which is a curriculum that returns to the same topics over time. All lessons are aligned to the National Curriculum.
The spiral approach to curriculum has three key principles. The three principles are:
Cyclical: Students should return to the same topic several times throughout their school career;
Increasing Depth: Each time a student returns to the topic it should be learned at a deeper level and explore more complexity;
Prior Knowledge: A student's prior knowledge should be utilised when a topic is returned to so that they build from their foundations rather than starting anew.
The curriculum approach uses 5 levels of skills across 3 different areas:
Health and Wellbeing
Living in the Wider World
Relationships
Staff will benchmark students on entry and will choose a level and subject according to the specific, bespoke needs of the students at that time. The choices will be made with liaison with the wider multidisciplinary team.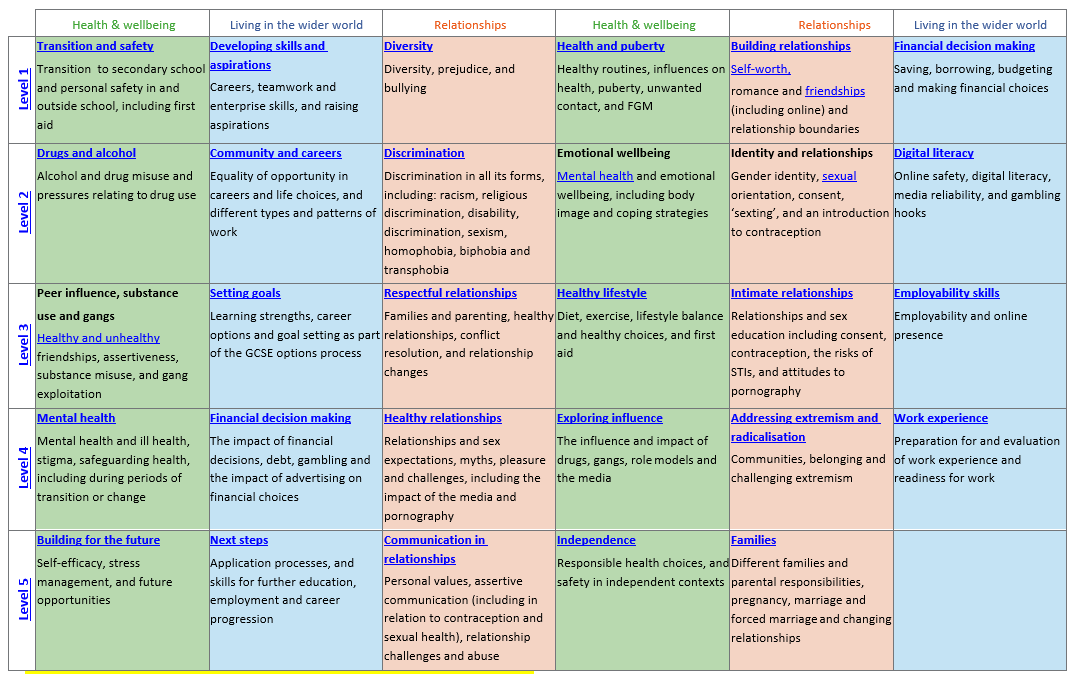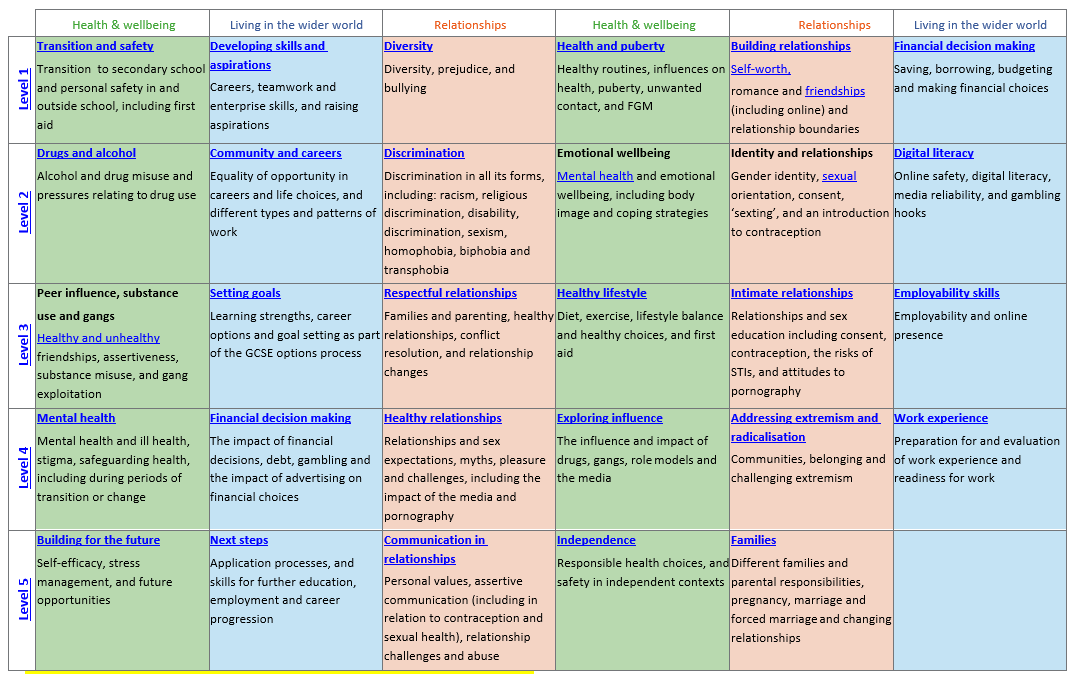 Enrichment
Our enrichment sessions occur on a Thursday afternoon and pupils can choose from a variety of activities to suit their needs and interests. Activities change across the terms and examples of what we have offered can be seen below:
Autumn 1

Arts and Crafts
Board Games
Online Escape Room
Film Club
Documentary Club

Autumn 2

Arts and Crafts
Board Games
Minecraft club
Computer Coding
Whirlow Hall Farm
Baking
Local History and travelling on local transport
Christmas Bonanza

Spring 1

Chapel Doc Fest
Drama/Expressive Arts - Drama/Music/Dance
Teamwork
Becton Bake Off