10b
Typically, our Y10b pupils are offered 20 hours per week. Our aim for our Y10 pupils is to support them into a successful transition back to their mainstream school or other appropriate setting.
A sample timetable can be viewed below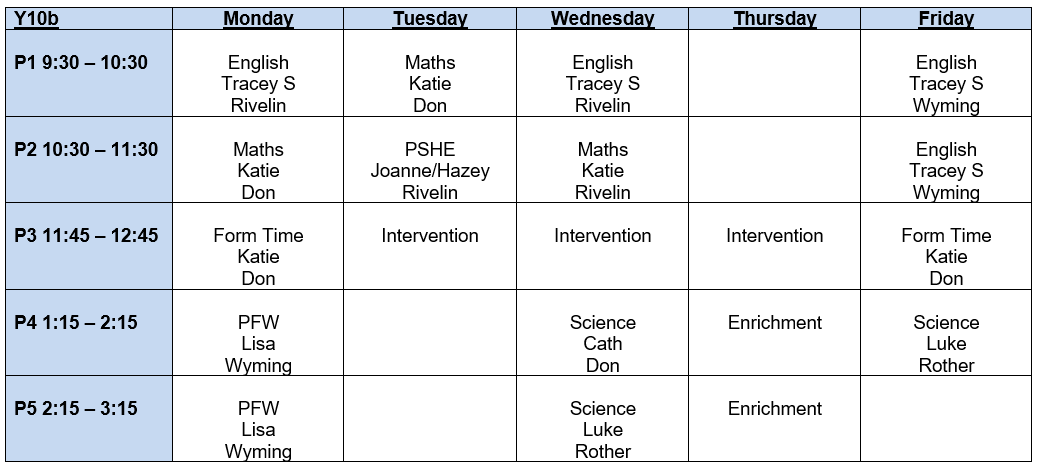 Please note that the content offered to students may differ from the main plan below if specific gaps in learning are identified or if the students host school has previously covered this material. In these cases, bespoke plans may then be put in place.
English
Our aim at The Chapel is to engage students in learning that is representative of elements of learning in mainstream school while enabling students to gain confidence in their ability and potential.
The long-term plans are dictated largely by the demands of the AQA exam syllabus. At The Chapel we work towards enabling students to gain a grade 4 or above in both English Language and Literature. However, we aim to be flexible and this pathway is not suitable for all of our students due to their individual circumstances. We also offer a Functional English course alongside the GCSEs for selected students.
The course starts with close study of two literature texts that explore the theme of social responsibility: An Inspector Calls and A Christmas Carol. We then turn to developing skills in creative reading and writing for the English Language exam.
Throughout the course we examine a collection of poetry connected by the theme of 'power and conflict', with poems from Percy Bysshe Shelley and William Blake alongside modern contemporary poems by Imtiaz Dharker and Carol Ann Duffy.
We also study Macbeth or Romeo and Juliet by William Shakespeare and analyse how writers use language to express their viewpoints before writing our own.
We want our students to learn to :
· Read a wide range of non-fiction and fiction texts with understanding and insight.
· Develop an appreciation of literature through the close study of prose, poetry and drama texts.
· Write skilfully to suit various audiences, purposes and forms such as letters, speeches etc.
· Speak with increasing confidence and fluency for a variety of purposes and audiences.
We also expect our pupils in KS4 to bring a private reading book to school every day. There is a reading opportunity towards the end of one of their English lessons and there may be chances to read in form time or in other lessons when work is completed.
Autumn 1

A Christmas Carol – Victorian England, Poverty and the Workhouse

Stave 1 – Scrooge and Marley & Marley's message

Stave 2 – The ghost of Christmas Past

Blood Brothers – Liverpool in the 1960s to 1980s - context

Characters

Mickey, Edward, Mrs Lyons and Mrs Johnstone

Themes

Poverty, class, friendship, loyalty, family, nature vs nurture, violence, fate and superstition

Autumn 2

A Christmas Carol – Victorian England, Poverty and the Workhouse

Stave 3 - The Ghost of Christmas Present

Stave 4 – The Ghost of Christmas Yet to Come

Functional Skills – Writing

Speeches

Articles

Formal Letters

Reports

Spring 1

Functional Skills – Reading

Locating information

Skimming and Scanning

Comprehension skills

Summer 1

Functional Skills – Speaking and Listening

Class discussion

Presentation Skills

Summer 2

Revision of Functional Skills

Exam Practice
Maths
Our approach is to enhance pupils' enjoyment of maths by working to ensure they experience success. For pupils who have missed time in school or who have struggled to make progress, this may mean spending more time building up their knowledge of number facts and methods, with structured practice to help with long term retention. Pupils who are already more confident also spend time learning strategies to apply to problems and recognising when a particular strategy is required.
Although pupils join us at different points, we structure the school year to provide the possibility for progression and some clarity for pupils as to what to expect and what they might have missed.
For Y10b a broad range of topics is taught from the initial part of the syllabus to allow for progression into Y11 as well as giving the students the opportunity to return to mainstream in Y11 if they are able, knowing they have covered a broad range of topics.
Autumn 1

Calculate with integers and decimals
Rounding numbers to a given number of significant figures
Factors, multiples and primes, squares, cubes and their roots
Negative numbers
Direct and inverse proportion
Manipulate algebraic expressions
Convert between fractions, decimals and percentages

Autumn 2

Read and write large numbers
Rounding
Investigate decimals as powers of 10
Sequences

Spring 1

Pythagoras' Theorem
Angle rules – around a point, on a straight line and in polygons
Angles and parallel lines
Interior and exterior angles in polygons
Transformations

Spring 2

Averages
Statistical charts and graphs – Pie charts, Stem and leaf, Scatter
Data collection techniques
Probability

Summer 1

Linear graphs
Real-life graphs
Non-linear graphs: Distance-time and velocity-time

Summer 2

Area and Volume
Circles
Plans and elevations
Science
In Science our aim is to enhance pupil's enjoyment of the Sciences. Our curriculum at KS4 involves the teaching of Chemistry, Biology and Physics at GCSE level and is taught in an engaging and interactive way, making the learning fun and ensuring that pupils' experience success. We structure the lessons so that they are representative of learning in the pupils' home school and support pupils to gain both the substantive and disciplinary knowledge that they need to succeed in the subject.
Although pupils join us at different points, we structure the school year to provide the possibility for progression and some clarity for pupils as to what to expect and what they might have missed.
Staff work with the pupil during their time at Chapel House to identify any gaps in learning and then work together to address those gaps.
Autumn 1

Describing motion along a line
Scalar and vector quantities: Distance and displacement; Speed and velocity
Distance-time graphs
Velocity-time graphs
Acceleration
Resultant forces
Eukaryotes and prokaryotes
Animal cells and plant cells
Cell specialisation Cell differentiation
Microscopy
Chromosomes: Mitosis and the cell cycle
Stem cells
Diffusion and Osmosis
Active transport
Atoms, elements and compounds
Mixtures
Scientific models of the atom
Relative electrical charges of subatomic particles
Size and mass of atoms
Electronic structure
Relative atomic mass
The periodic table
Development of the periodic table
Metals and non metals
Group 0
Group 1
Group7

Autumn 2

Newton's First Law
Newton's Second Law
Newton's Third Law
Forces and braking
Stopping distance
Reaction time
Factors affecting braking distance
Momentum (HT only)
Organisational hierarchy
The human digestive system
The heart and blood vessels
Blood
Coronary heart disease: a non-communicable disease
Chemical bonds
Ionic bonding and Ionic compounds
and Properties of ionic compounds
Covalent bonding
and Properties of small molecules
Metallic bonding
The three states of matter & State symbols
Polymers
Giant covalent structures
Properties of metals and alloys and
Metals as conductors
Structure and bonding of carbon

Spring 1

Standard circuit diagram symbols
Electrical charge and current
Current, resistance and potential difference
Resistors
Series and parallel circuits
Health issues
The effect of lifestyle on some non-communicable diseases
Cancer
Plant tissues
Plant organ system
Conservation of mass and balanced chemical equations
Relative formula mass
Mass changes when a reactant or product is a gas
Chemical measurements
Moles (HT only)

Spring 2

Energy stores and systems and energy changes
Work and power
Energy transfers and efficiency
National and global energy resources
Communicable (infectious) disease
Plant organ system
Viral diseases
Bacterial diseases and Fungal diseases
Protist diseases
Human defence systems
Vaccination Antibiotics and painkillers
Discovery and development of drugs
Metal oxides
The reactivity series and Extraction of metals and reduction
Reactions of acids with metals
Neutralisation of acids and salt production
Soluble salts
The pH scale and neutralisation

Summer 1

Direct and alternating potential difference
Mains electricity
Energy transfers in everyday appliances
The National Grid
Energy changes in systems
Photosynthetic reaction
Rate of Photosynthesis
Uses of glucose from photosynthesis
Aerobic and anaerobic respiration
Response to exercise
Metabolism
The process of electrolysis
Electrolysis of molten ionic compounds
Using electrolysis to extract metals
Electrolysis of aqueous solutions
Energy transfer during exothermic and endothermic reactions
Reaction profiles

Summer 2

Contact and non-contact forces
Gravity
Work done and energy transfer
Forces and elasticity
Pressure in a fluid
Atmospheric pressure
Importance of homeostasis Structure and function
Human endocrine system
Control of blood glucose concentration
Hormones in human reproduction
Contraception
The use of hormones to treat infertility (HT only)
Negative feedback (HT only)
Calculating rates of reactions
Factors which affect the rate of chemical reactions
Collision theory and activation energy
Catalysts
Reversible reactions and Equilibrium
Preparing for Working Life (PFWL)
Each term will focus on one module.
Every half term within each module, will focus on consolidating learnt skills in different contexts and also learning new skills.
| | |
| --- | --- |
| Autumn 1 | Working as Part of a Group |
| Autumn 2 | Working as Part of a Group |
| Spring 1 | Basic Food Preparation |
| Spring 2 | Basic Food Preparation |
| Summer 1 | Basic Cooking |
| Summer 2 | Basic Cooking |
RSE and PHSE
All Becton students are taught using a spiral curriculum approach which is a curriculum that returns to the same topics over time. All lessons are aligned to the National Curriculum.
The spiral approach to curriculum has three key principles. The three principles are:
Cyclical: Students should return to the same topic several times throughout their school career;
Increasing Depth: Each time a student returns to the topic it should be learned at a deeper level and explore more complexity;
Prior Knowledge: A student's prior knowledge should be utilised when a topic is returned to so that they build from their foundations rather than starting anew.
The curriculum approach uses 5 levels of skills across 3 different areas:
Health and Wellbeing
Living in the Wider World
Relationships
Staff will benchmark students on entry and will choose a level and subject according to the specific, bespoke needs of the students at that time. The choices will be made with liaison with the wider multidisciplinary team.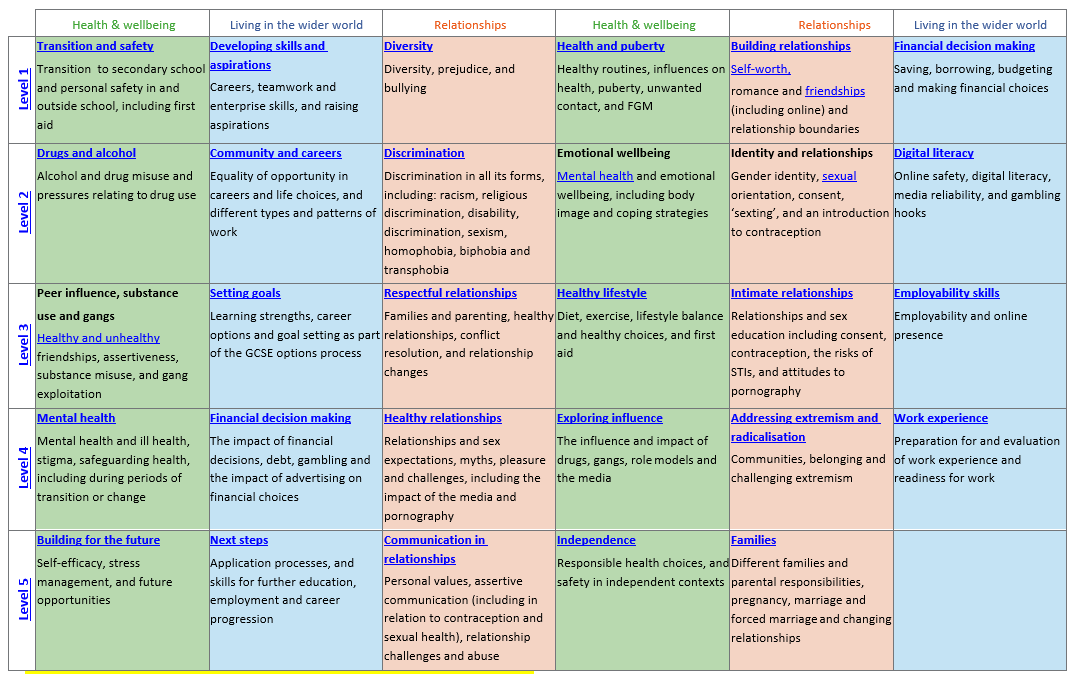 Enrichment
Our enrichment sessions occur on a Thursday afternoon and pupils can choose from a variety of activities to suit their needs and interests. Activities change across the terms and examples of what we have offered can be seen below:
Autumn 1

Arts and Crafts
Board Games
Online Escape Room
Film Club
Documentary Club

Autumn 2

Arts and Crafts
Board Games
Minecraft club
Computer Coding
Whirlow Hall Farm
Baking
Local History and travelling on local transport
Christmas Bonanza

Spring 1

Chapel Doc Fest
Drama/Expressive Arts - Drama/Music/Dance
Teamwork
Becton Bake Off